Level 2 Electrician Wetherill Park
Level 2 Electrician Wetherill Park
Do you need a qualified Level 2 electrician in Wetherill Park? Faraday Group is up to the task. Above all, our specialist team delivers on a wide range of electrical requirements. For instance, our 65 years of experience show our commitment to exceptional service. Get started by getting in touch with us today.
Level 2 electrician services
What can Faraday do for you? As an Accredited and Authorised Service Provider (ASP), we can fulfil all Level 2 electrical tasks. Most importantly, our team always goes the extra mile to deliver results. For example, if you require emergency services or point of attachment, we're the best team for the job. You can rely on us to achieve the best outcome within your timeline and budget.
What we do
Faraday Group is fully qualified as a Level 2 electrician. Moreover, we're qualified to work on various high-level electrical installation and maintenance services. For instance,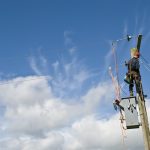 working on points of contact and electrical lines inside and outside of properties. In addition, we provide 24-hour emergency services when you need us. Here are the services we can offer to you:
Underground and overhead electricals
Our team can handle the maintenance and installation of overhead and underground cables.
Point of attachment solutions
Need a qualified electrician for point of attachment? Our team are up to the task.
Power pole installation and maintenance
We make the maintenance and installation of power poles as easy as possible.
Emergency electrical services
Whatever time of the day or night, we're here to help with emergencies in Wetherill Park.
Why choose Faraday Group?
Why work with our team? Firstly, our stellar reputation for services as a Wetherill Park electrician is a key reason. Secondly, our full accreditation as a Level 2 electrician allows us to provide varied services. Finally, our friendly attitude and professional approach ensure an exceptional standard of service from first contact. Above all, you can rely on us to achieve tasks on your terms.
Your local Level 2 specialist
Need a local, knowledgeable Level 2 electrician? Faraday Group is your ideal choice if you're in the Wetherill Park area. In other words, we'll always deliver the best possible service for your individual needs. This personal approach makes us trustworthy, reliable electricians. In short, our excellent reviews and positive recommendations say more than we ever could.
Need a Level 2 electrician in Wetherill Park?
Need Level 2 electrical services from a skilled team? Get in contact with us today. We tick all the boxes with 24/7 call-outs and a wide range of services. Most importantly, we'll always go the extra mile to deliver a service that suits you. Get in touch today to get a free quote for our Level 2 electrical services.
Need assistance with Domestic and commercial electrical? Call us today to book an appointment
Faraday Group has a team of expert electricians.
For a free quote, call us or send a quote request online, plus read our reviews from some of our fantastic customers.
More To Explore