Level 2 electrician Lane Cove
Level 2 electrician Lane Cove
Are you looking for a specialised level 2 electrician in Lane Cove? Faraday Group may be the right fit for you. Most importantly, our skilled team have the qualifications necessary to meet your electrical requirements. So, why not start by getting in touch today?
Level 2 electrician services
How can we help you? Extensive experience and training as an Accredited and Authorised Service Provider (ASP) allows us to carry out all level 2 electrical work. Therefore, our service is the perfect fit for power pole installation, underground electricals, and more. Above all, we provide an exceptional standard of service from first phone call to job completion.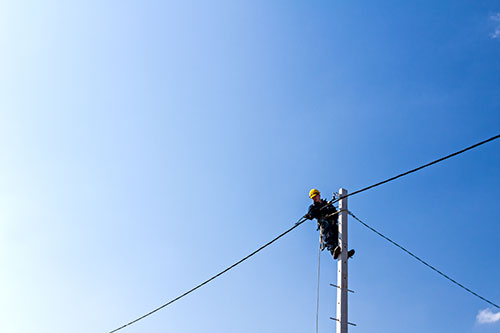 What we do
As a qualified level 2 electrician, we can offer various services. For instance, our team is qualified to work on electrical lines and points of contact in and around your property. In addition, we provide 24/7 emergency service as and when you need so. Here's what we can do for you:
Underground and overhead electricals
We have the training to work on and maintain underground and overhead electric lines.
Point of attachment solutions
Need point of attachment? Then our qualified electricians are the team for the job.
Power pole installation and maintenance
Installation and maintenance of power poles are covered with our level 2 accreditation.
Emergency electrical services
We're here around the clock. So, if you need an emergency electrician in Lane Cove, give us a call.
Why choose Faraday Group?
Why work with Faraday Group? There are a few reasons. Firstly, our excellent reputation as a local Lane Cove electrician makes us a great choice. Secondly, our level 2 accreditation allows us to provide the service you need. Finally, our personal approach to our services ensures excellent quality of service from start to finish. In other words, we'll always put you first.
Your local level 2 specialist
Are you looking for a level 2 electrician in Lane Cove? Our local services may be your ideal option. We always go the extra mile for our customers. Moreover, we'll always provide a friendly, professional experience from your first contact with our team. So, if you want an electrician you can rely on, Faraday Group is here on the other end of the phone.
Get in touch for level 2 electrical services in Lane Cove
Ready to get started? Get in touch with our team today. We're here to help 24 hours a day with our electrical requirements. In short, we're the best team for your needs in the Lane Cove area. Call us today to get a free quote for our services.
Need assistance with Domestic and commercial electrical? Call us today to book an appointment
Faraday Group has a team of expert electricians.
For a free quote, call us or send a quote request online, plus read our reviews from some of our fantastic customers.
More To Explore