Commercial Electrician Services
Commercial Electrician Services
The benefits of regular commercial electrician services for your business
Maintaining your premises is a vital part of keeping business operations running smoothly. Whether that is office cleaning or electrical maintenance, the benefits of keeping up with minor repairs in the workplace are numerous – from saving you money on larger repairs to improving the wellbeing and productivity of your staff.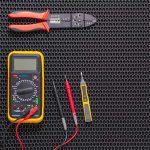 Below, we're going to look at some of the benefits of regular electrical maintenance for your business, as well as why it pays to have a professional perform your commercial electrician services.
The risks of not maintaining your electric systems
The only benefits to pushing electrical maintenance back are short-term cost savings which do nothing to help your business in the long run. Outright ignoring electrical maintenance, or carrying it out yourself, is not only risky for your commercial space but it poses a serious health risk for everyone on-site.
Electricity can be lethal, and although it's all around us in modern times, that does not make it any less dangerous. Electrical fires, electrocution and other potentially lethal accidents could occur if you don't properly maintain your electrical systems with the help of a professional commercial electrician.
Benefitting from regular electrical maintenance at work
Keeping your workplace safe is pivotal to running a thriving business – otherwise, you run the risk of site closures due to electrical faults and even accidents in the workplace. A regularly scheduled electrical maintenance service can circumvent all of that by catching problems early on.
Electrical maintenance is a fantastic way to catch problems before they develop into bigger, more serious ones. If you have a bespoke piece of machinery or a hard-to-source system, then it really pays to perform minor maintenance on a regular basis to keep it in commission for as long as possible.
Having a professional commercial electrician on your side ensures that everything is up to code and well-maintained in your workplace. You need not worry about the risk of a faulty wire causing a catastrophic accident, and your staff will feel much safer knowing that their place of work is well looked after. It may not seem like much, but this is the foundation of a successfully run business.
Commercial Electrician Services can really help your business. Call us today to book an appointment
Faraday Group has a team of experts ready to keep your workplace running smoothly and safely.
For a free quote, call us or send a quote request online, plus read our reviews from some of our fantastic customers.
More To Explore