Commercial electrician near me
Commercial electrician near me
How to find a commercial electrician near me
If you need a commercial electrician nearby, there are a number of different ways you can find one and make sure they can complete your commercial electrical work to an excellent standard. A commercial electrician is responsible for the installation, maintenance and repair of all types of electrical systems in buildings, and this requires a unique skill set and a high level of training. If you're looking for a professional to work on your building's electrical system, here are some tips to help you find one.
Finding a commercial electrician
There are a few different ways to find a commercial electrician near me, but the first place to look is online. There are many sites that offer listings of local contractors by type or location. Some of these sites will also verify the commercial electrician and feature reviews from previous clients. It's also a good idea to check out Yelp, Facebook, or Google Maps for listings in your area too.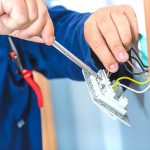 You can also ask for local recommendations and use your connections in the local area. If you're a business owner, ask for recommendations from other businesses you know, who might be in the same field. They might have experienced the same issue as you and can recommend a reliable local electrician. Commercial electrical services are highly specialised, so it's worth making sure that they are able to complete your job and are qualified to the correct level.
What to look for in a commercial electrician near me
Once you've found some possible contractors, it's important to do your research on each one by checking their credentials and comparing their estimates. It is also a good idea to look for reviews on social media sites and online listings to see whether they have completed similar work for other businesses. It's also a good idea to look at how long they have been in business, for example, the commercial electricians at Faraday Group in Sydney have over 60 years of experience! When you get in touch with us, it's also worth asking how soon we can complete the work, especially if it's an emergency repair or you have a tight deadline.
Have you ever asked yourself "where is a great commercial electrician near me? Look no further.
Faraday Group has a team of experts ready to keep your workplace running smoothly and safely.
For a free quote, call us or send a quote request online, plus read our reviews from some of our fantastic customers.
More To Explore