Commercial Electrical Contractors
Commercial Electrical Contractors
The role of commercial electrical contractors in your business
If you're a business owner who needs electrical work, then it is important you find a reliable commercial electrical contractor you can count on. Commercial electrical contractors provide many services to businesses, shops, restaurants, factories, and industrial facilities and they can also offer advice, maintenance, repairs, and installation services.
What does a commercial electrical contractor do?
The installation of shop lights, shoplifting prevention systems, and industrial light fittings are just a few of the most common commercial electrical contractor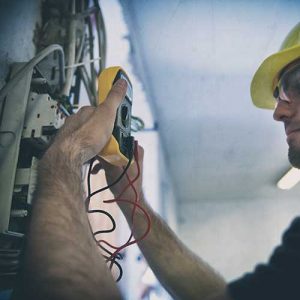 services. Whatever type of business you have, you'll need electricity, and your commercial electrical contractor will be able to ensure your system is up to scratch and safe. They can also complete testing of electrical circuits, install new equipment for commercial kitchens and they are essential if you are doing a refit or upgrading your business premises.
Ensuring electrical safety in the workplace
It is also important that you have a commercial electrician who will work on your business premises to ensure that all the wiring is up-to-date and in compliance with local codes. Commercial electrical contractors also provide cost-effective maintenance and testing services to clients so that commercial spaces are safe from any dangerous situations like shocks or electrical fires. Having safe, up-to-date electrical systems is essential for the safety of your staff and customers, so having regular electrical maintenance and testing is always a good idea. As an employer, it is your responsibility to make sure your staff are working in a safe environment, and if there are any electrical issues such as flickering lights or power failures, you need to get an electrician to check it as soon as possible.
How to find a commercial electrical contractor
If you need a commercial electrician for your business, there are several things to keep in mind. First, look for recommendations from friends and local businesses that may have had similar work done. You can also ask the electrical firms you are considering if they provide references from previous clients and how long they've been in business. Remember that just because an electrical contractor is near you, it doesn't mean they're qualified or licensed, so be sure to check their credentials before signing any contracts! Also, make sure to check that they are fully insured, carry a valid electrician's license for your area, and can give you a quote for the work before you commit.
Are Commercial Electrical Contractors essential for the smooth operations of your business? Call us today to book an appointment
Faraday Group has a team of experts ready to keep your workplace running smoothly and safely.
For a free quote, call us or send a quote request online, plus read our reviews from some of our fantastic customers.
More To Explore